Primary School Floor Plans, Elevations & Topo Survey.

External elevation showing all glazing, panels, doors and windows tied to ITM grid and datumTASK: Survey a 300 pupil primary school in rural Ireland and do it during school term.
Site Days: 4
Office days: 3
Deliverable: 2D floor plans and elevations along with detailed topographical survey of site.
A difficult task at the best of times but given the weather that given week this rural primary school measured building survey pushed us to our limits. Day 1 in the rain was spent gathering all field data for the external topographical survey which we 99% conpleted with #Geomax Zentih 15 GPS with VRS link to Irish National Grid.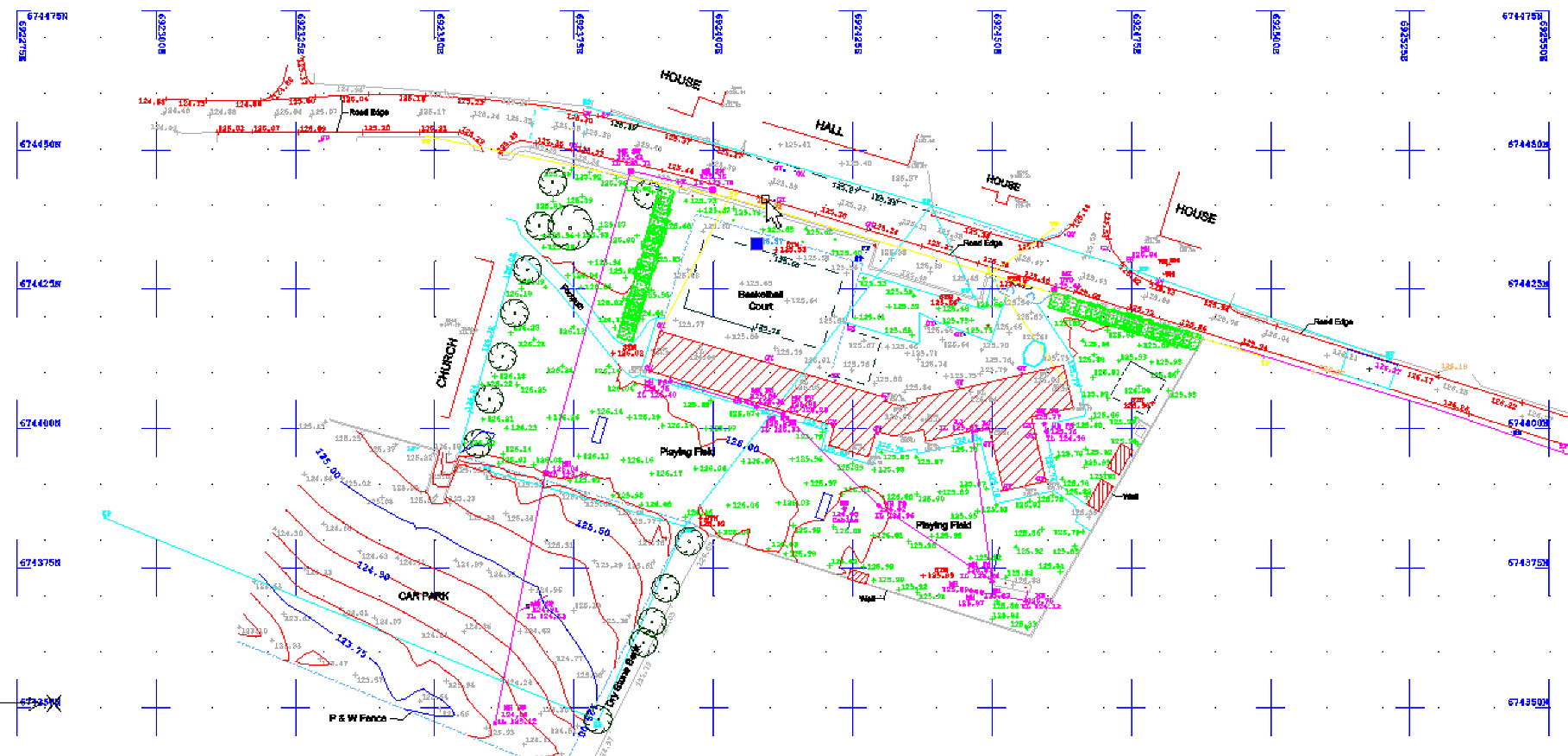 Topographical survey showing levels, contours, boundaries, trees, adjoining buildings. manholes with invert levels as well as overhead lines both power and telecommunications.
Day 2 and once again in the rain was spent working on the external elevations and given the deliverable specification traditional reflectorless Total Station coupled with MBS elevation software were the tools of choice for the job.
The internal floor plans is where the project got somewhat tricky. As a fully functional school the only option for us to record the on site data was at the weekend. Day 3 in the rain saw the continuation of the external elevations while a second survey crew commenced the internal floor plans with MBS floor plan software.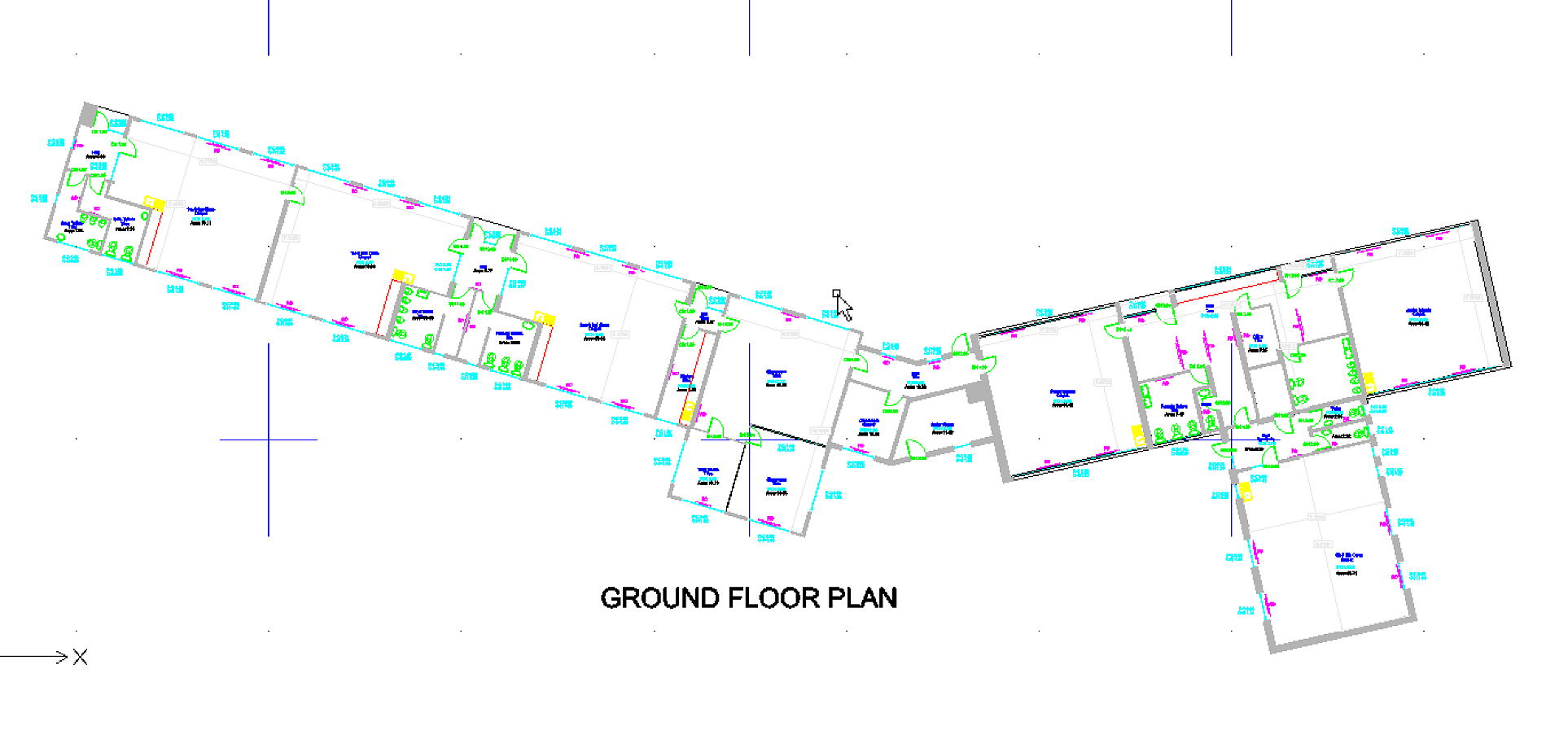 Internal floor plan showing room configurations, floor to celing heights, areas and all fixtures and fittings including windows, door swings, heating and all bathroom systems.
A DXF of the external footprint of the building was the starting point for the internals with a combination of reflectorless total station and leica bluetooth disto linked to a Microsoft Go touchscreen tablet allowing us blast through the floor plan in 2 days.
Day 4 and you guessed it more rain, saw us complete the field work wrapping up all elevations and floor plan data collection as well as opening all manholes on site to complete the external topographical survey. Day 4 was long and wet and in winter ultimately dark. We ended up working late into the evening to complete the field work ahead of the school opening again on Monday morning.
A further 3 office based days completed all the CAD work resulting with the client getting delivery of the final cad drawings ( a total of 15 files) just 10 days after giving the go ahead for the project.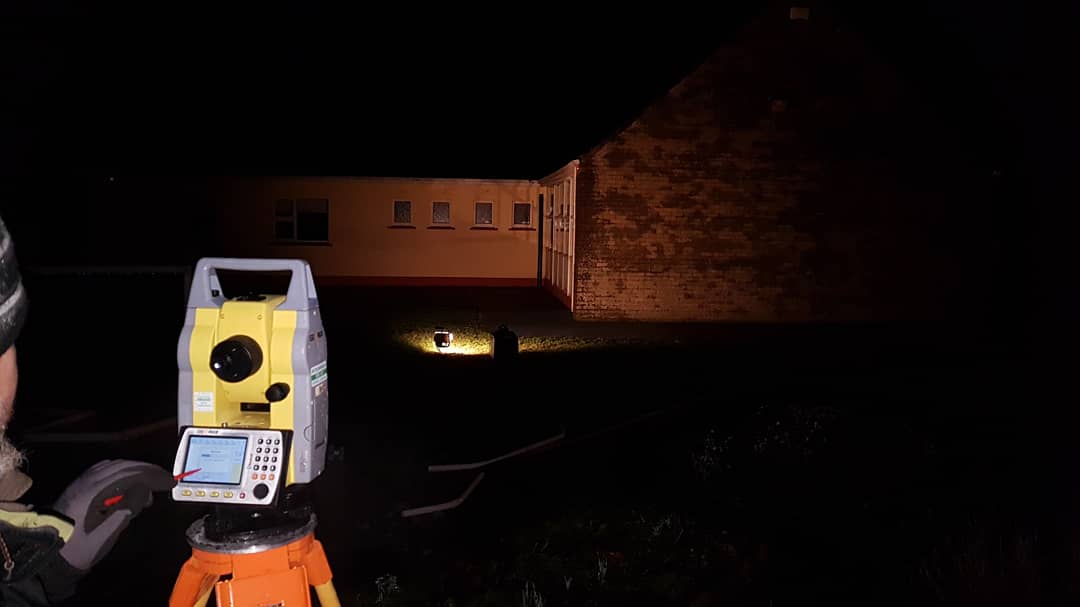 Short winter days sometimes means getting creative. On this occasion we ended up recording external elevations in the dark with #geomax Zoom 50 Total Station bluetooth to tablet. Generator and lights to the rescue!