Quick floor plan and roof plan required at hotel in Kildare, Ireland
Client: Fitzsimons Doyle & Associates
Location: Carton House, Maynooth, Co. Kildare
Purpose: Deliver lobby floor plan, roof plan for proposed redevelopment in a hurry.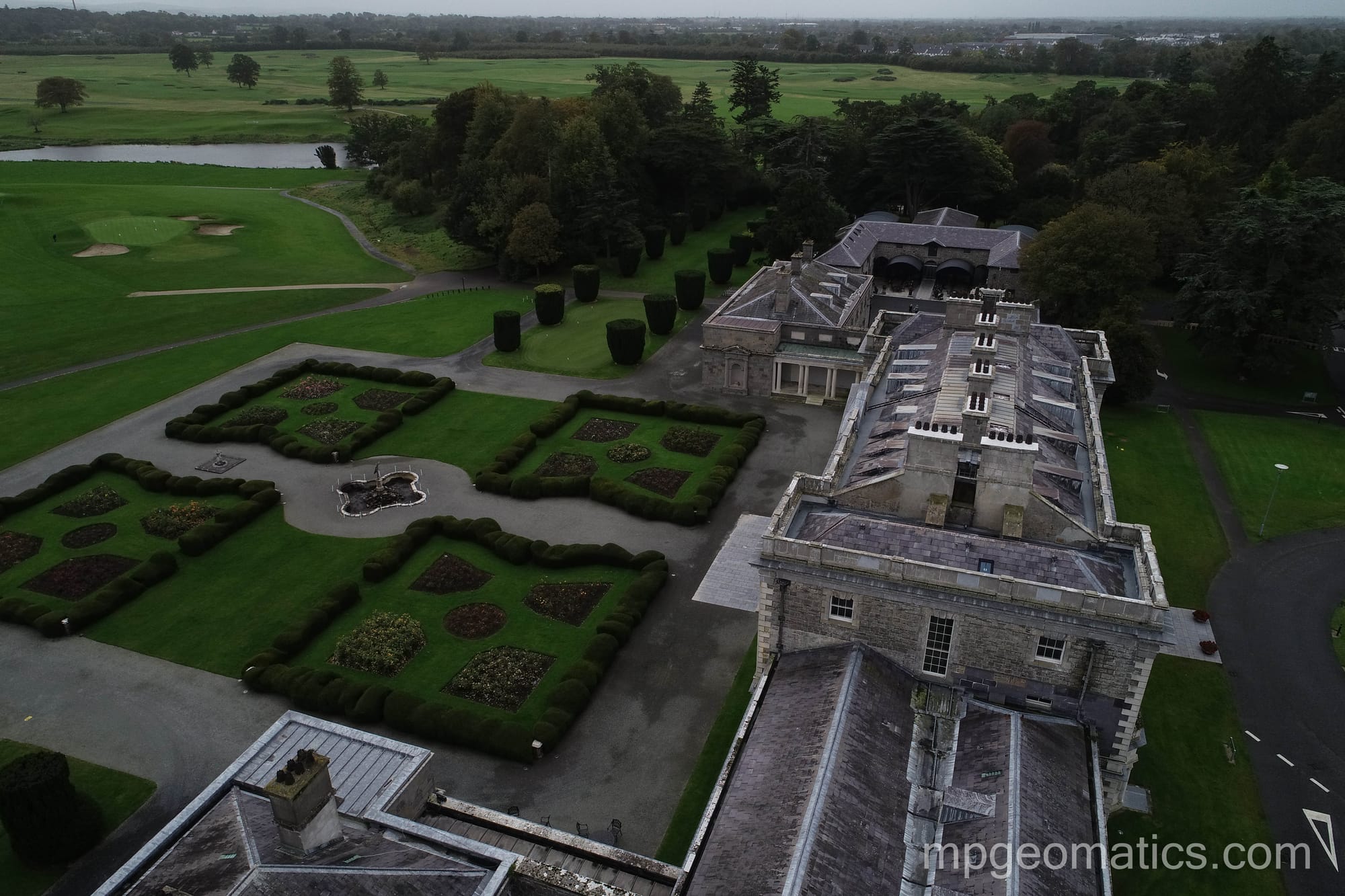 Carton House as viewed from above
Carton House in Maynooth, Co. Kildare is a well known hotel and leisure complex which has hosted the Irish Open Golf Championships on its famous Montgomerie course in 2005, 2016 & 2013. Like every old stately home there is never ending maintenance required. In this case the main hotel lobby and reception were due for renovation and as a result a specialist floor plan and roof plan survey were required.
Like all major redeveopments time was of the utmost issue and as a result traditional GPS, Total Station and MBS floor plan tech was the perfect choice. On this occasion there was no time to laser scan the area in question due to the time required to process the point cloud data.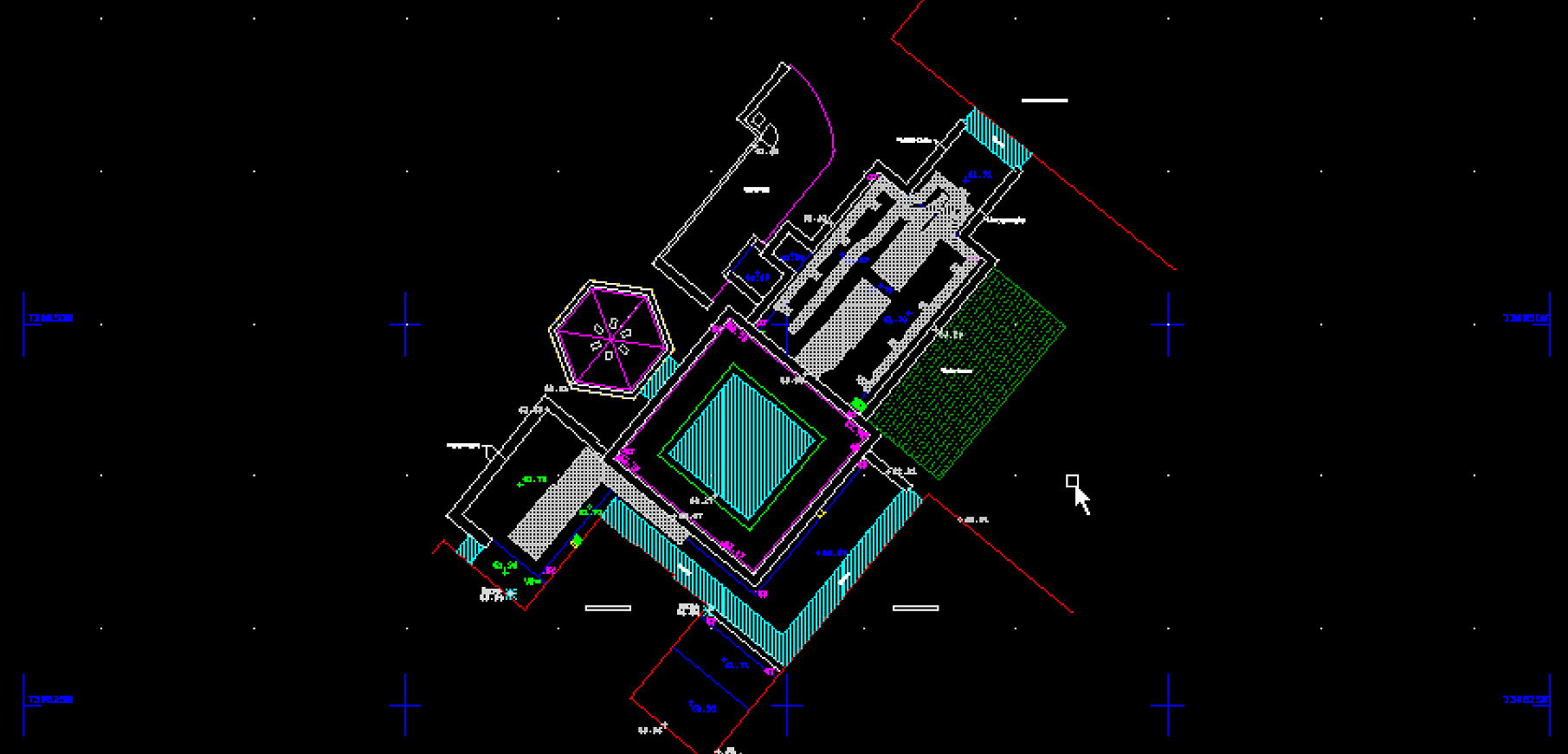 ROOF PLAN IN 2D &3D AUTOCAD FORMAT
After setting up intital site control to ITM grid and datum we traversed control into all major room to directly record fit detail for import into the specialist MBS floor plan software. In addition reflectorless total station was used to survey specific structural levels as required by the enginners.
A combination of rectified photography and traditional total station methods were used to survey the roof plan with 2D and 3D Autocad drawings being the deliverable. Its up on a roof where drone technology comes into its own. While most of the roof was recorded with total station the rectified photo was useful in checking our survey as well as being an added value deliverable to the client.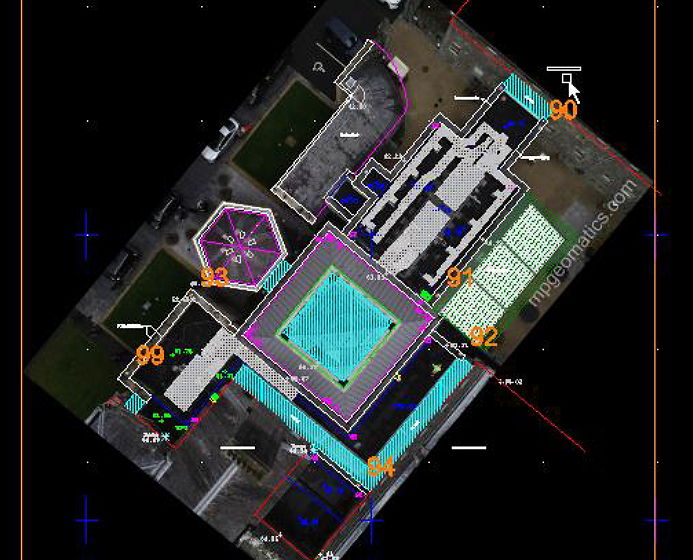 Roof plan and rectifed photo from drone merged in Autocad
The survey was completed and delivered within 3 days allowing the structual enginners get a head start on design keeping the project on schedule.